How to open Destiny 2 Umbral Engrams: Prismatic Recaster location and Umbral Focusing
Destiny 2 Umbral Engrams grant you access to better quality weapons, gear, and rewards, so here's everything you need to know about them.
Umbral Engrams let you craft some neat gear and choose your rewards in Destiny 2, so here's how everything you need to know about them, including where to find them and how to Focus them.
Destiny 2 has ton of awesome content for you to try out every time you hop into a game. You can collect as Trials of Osiris rewards and bounties from Spider or use some powerful weapons in combat.
Umbral Engrams were added to the game a while back, and you can use these to craft rare gear for yourself. This guide will go over everything you need to know about them.
---
Table of Contents
---
What are Destiny 2 Umbral Engrams
Umbral Engrams share similarities to Legendary and Exotic Engrams. They drop at your current power level and help you craft some neat gear to use in combat.
These will take up the same lot in your inventory as other Engrams. You can pick these up from any event, including Crucible matches and Strike missions. Once have them, you can use them to select your preferred rewards.
How to get the Umbral Decoder and Prismatic Recaster
You can't open Umbral Engrams by bringing them to the Cryptarch or Eververse. Instead, you'll need to make use of a tool known as the Umbral Decoder along with the Prismatic Recaster.
Here's how you can get both of these:
Head to Titan
Speak with the Drifter (You may need to defeat the boss in the Gambit-style events first)
Complete a Strike, Crucible or Gambit match to acquire the Prismatic Recaster
Open up the Prismatic Recaster and upgrade it with Twisted Energy
This grant you an Umbral Engram along with an Umbral Decoder
How to Focus your Umbral Engrams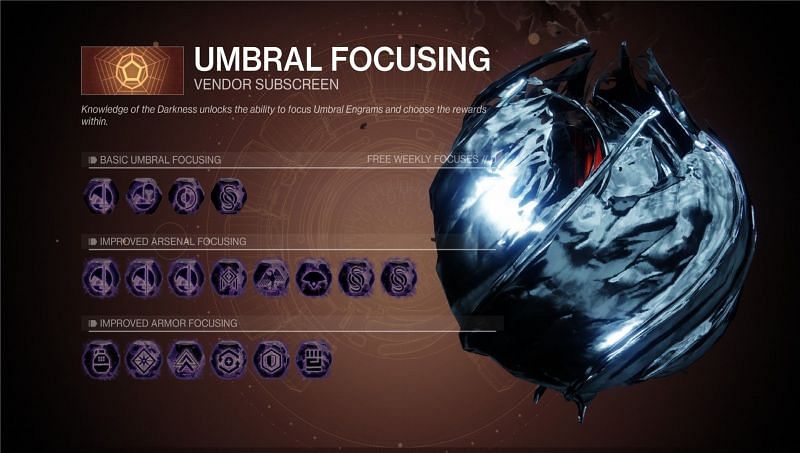 The more you level up the Prismatic Recaster, the greater the reduction will be in the cost of Umbral Engrams. You can purchase more Umbral Engrams with Altered Element that you earn by completing Bounties from the Prismatic Recaster.
Alternatively, you can get more by purchasing a Trade Override with legendary shards. Once that's done, you can then Focus your Engram to select what gear you want to receive. This will ensure that you get your preferred rewards more often
There are three tiers of Umbral Focusing:
Tier 1: Grants you access to standard weapons and armor
Tier 2: Gives you more Legendary weapons
Tier 3

: Lets you unlock armor pieces that focus on mobility and strength
That covers everything you need to know about Umbral Emblems in Destiny 2. You can use them to get yourself much more powerful gear and weapons than you would normally acquire.
---
For more Destiny, check out how to get the Thorn Armor set, and stay tuned for more news and guides.
Image Credits: Bungie