Best landing spots in Fortnite Season 5 by chest count
Fortnite Island has gone through some changes for Season 5. Here are the best landing spots based on how many chests spawn in each location.
The Fortnite map has gone through several changes in Chapter 2, Season 5. This means that there are brand new areas filled with chests. You'll find more chests in certain locations and fewer and others. Here are the best places to land.
After the epic conclusion of Fortnite's Marvel-centric Season 4 with the Galactus live event, The Mandalorian headlines Season 5 with brand new skins, cosmetics, and missions.
The map itself is considerably different, with new additions such as the Stealthy Stronghold and Hunter's Haven. We've also seen the return of Tilted Towers, which is now called Salty Towers, as a combination between Tilted Towers and Salty Springs.
This means that you'll find more chests in a few key areas. Here are the best Fortnite Season 5 locations that have the most chests.
Where to find the most chests in Fortnite Season 5
In Seasons 3 and 4, you would find the highest amount of chests in Misty Meadows, but after the latest map changes, this is no longer the case. Thanks to the Fortnite stats site LootLake, we can track the total amount of chest spawns in Chapter 2, Season 5.
Lazy Lake is the richest location in terms of chests with 41 possible chest spawns. Sweaty Sands comes in second place with the total possible amount being 34, and Misty Meadows closely follows with 33. These are the areas you'll want to visit first in Season 5.
Now we'll come to the new additions on Fortnite Island. Hunter's Haven is located near the center of the map and is among the richest areas of chest spawns. You can find 21 chests, and you have a chance of getting 15 more from the surrounding area. This makes the location a hotspot for players to land, so be ready for a fight.
After visiting Hunter's Haven, make your way to Colossal Coliseum. This new location isn't as big as the others, but the loot is concentrated in one area as a result. You can find plenty of chest spawns across the entire Coliseum and that makes this a very popular location.
Stealthy Stronghold is also a great landing spot. You can find this area just north of Pleasant Park. There at least 16 chest spawns within this enclosure, with the possibility of more being in the nearby area.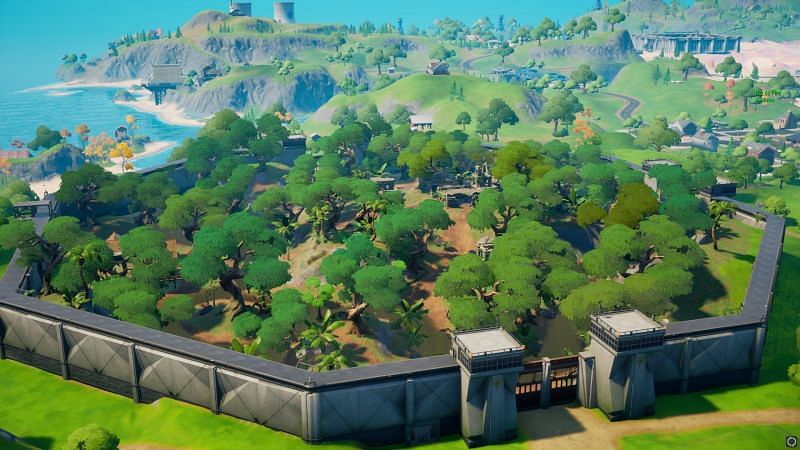 You can find the most chests at Lazy Lake, making this the best landing spot in Season 5. Once you've collected your fill, you can rotate to the other locations we listed. A few of these are near each other so that makes things a bit easier.
That covers all the best landing locations for collecting chests in Fortnite Chapter 2, Season 5. Just know that you won't be the only one coming to these searching for loot, so keep your weapon ready.